Name: Rebecca
Location: Claremore, Oklahoma, United States
Things I love! My Lord, my Bible, knitting, spinning, crocheting, FALL!, working out, horseback riding, two-stepping with hubby, line dancing with my sisters, singing along with the radio, dark chocolate, yummy scented candles, lace, japanese cherry blossom by bath & bodyworks, merino wool, baby alpaca, silk, vintage rhinestone brooches, lacey romantic shawls, roses, pale pink pearls, 1940's fashions, christmas, crocheted snowflakes, lots of icicles, my mom & siblings, raspberry truffle martinis, a clean kitchen, homemade soup, glazed candied pecans, my in-laws, Godiva truffles, mexican food, italian food, flannel pj's, Will Smith, watching movies with hubby, shopping with my sisters, baking with my kids, watching Grey's Anatomy and LOST, wool-ease yarn, brooks farm yarn, artfibers' chai silk yarn, pink champagne, date nights with hubby, long phone conversations with Beth or Shauna, cowboy boots, tweed coats, black & white photos, dark wood, aga stove/ovens, craftsman style homes, old fashioned gardens, tulips, african violets, running, tickling my kids, making gifts for people I love.
(.+. The Girl .+.)


A Crochet Blog "She seeks wool and flax and works willingly with her hands" Proverbs 31:13
(.+. Snag her buttons .+.)



Here's a link to my knitting blog, sorry i don't have a button yet! Want to make me one?
(.+. She Adores .+.)


Stitch Diva Studios


(.+. Wish I May, Wish I Might .+.)


Betty Boop Coca-Cola Decopauge Wall Clock for my kitchen!!
Betty Boop Coca-Cola Single Switchplate Cover!
Betty Boop Kiss the Cook Cookie Jar!!
(.+. On her hooks .+.)


Granny Square Tote
Rippled Mittens
felted cd case
Star Ripple Baby Afghan
(.+. Crochet-Alongs .+.)


(.+. Coming Soon .+.)


(.+. Web Rings .+.)


Previous
|
Next

Previous
|
Next

Vote for me in Top 100 Crochet and Hook Sites List
(.+. Her Past Entries .+.)



09/05/2004 - 09/12/2004

09/12/2004 - 09/19/2004

09/19/2004 - 09/26/2004

09/26/2004 - 10/03/2004

10/10/2004 - 10/17/2004

10/17/2004 - 10/24/2004

10/24/2004 - 10/31/2004

10/31/2004 - 11/07/2004

11/07/2004 - 11/14/2004

11/21/2004 - 11/28/2004

01/02/2005 - 01/09/2005

01/16/2005 - 01/23/2005

01/23/2005 - 01/30/2005

01/30/2005 - 02/06/2005

02/06/2005 - 02/13/2005

02/13/2005 - 02/20/2005

02/20/2005 - 02/27/2005

02/27/2005 - 03/06/2005

03/06/2005 - 03/13/2005

03/13/2005 - 03/20/2005

03/20/2005 - 03/27/2005

03/27/2005 - 04/03/2005

04/03/2005 - 04/10/2005

10/30/2005 - 11/06/2005

11/27/2005 - 12/04/2005

12/04/2005 - 12/11/2005

12/11/2005 - 12/18/2005

12/25/2005 - 01/01/2006
(.+. Coming Soon .+.)


(.+. Coming Soon .+.)


(.+. Coming soon .+.)


(.+. Find her here .+.)



(.+. Shop till ya drop .+.)




(.+. Just for Fun .+.)


(.+. Her Friends .+.)





(.+. Credits & Thank You's .+.)


xDiorAngelx
xDiorAngelx Tutorials
Blogger
Blogskins

Saturday, January 29, 2005
~*~ Looooonnnnnngggg Day on the River ~*~
Hiyall

hmm..what to say??? Hubby was sick so I didn't make it to the crochet meet-up tonite.
I'm behind on my projects I'm wanting to use next weekend but ya know what? I dont' care. When I start putting so much pressure on myself to get stuff done by a deadline I stop enjoying what I'm making and don't want to work on it at all. So if i get it done, GREAT! If not, then so what??

See my pretty button!!!! Mitzi made it for me!! Snag it if ya want to.

I ordered some yarn last night after chatting with the person I get to make a poncho for in the poncho/shawl swap. It's gonna be so much fun to make this for her. I'll show you the yarn but I'm keeping mum on the design cause I want it to be a surprise!! The yarn is called Glitter and the color is called Sprite. I can't wait to get it and see how it works up!




lol, the person I was hoping would get my name DID!!! And she was hoping to get my name!! lol. Beth of Three Olives And Some Yarn is gonna make me a gorgeous pink mohair shawl!! I can't wait to see it, she said the yarn reminds her of cotton candy, YUM!!

I'll leave you tonite with some pics I just got back from the photolab. Some are recent projects, some are just now getting photographed. Enjoy!!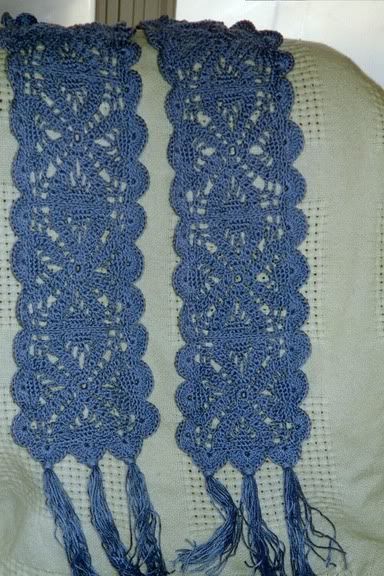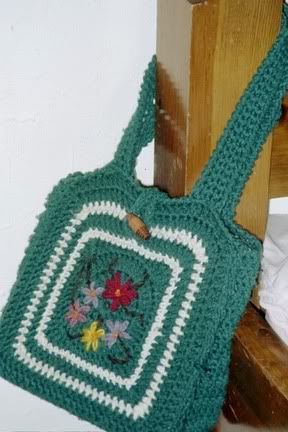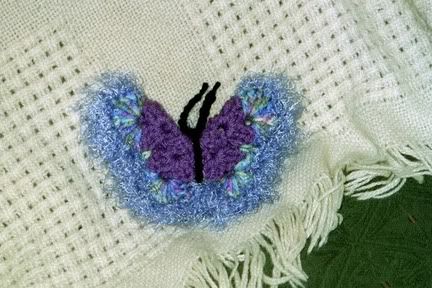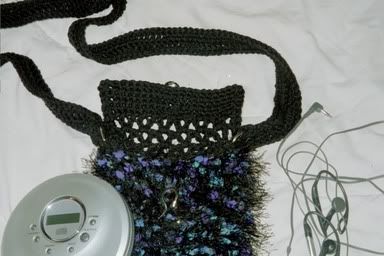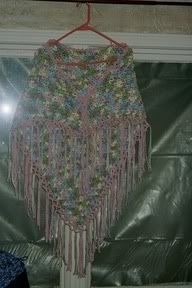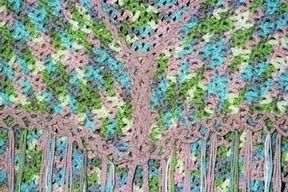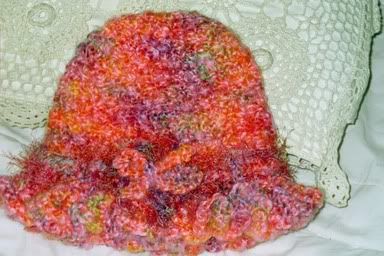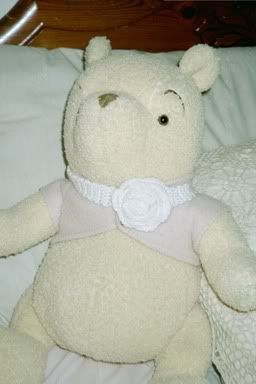 more to come soon!

Goodnite all my beautiful peeps!! Loveya.



[*-Wool & Flax-*] | 10:25 PM
|
---
Wednesday, January 26, 2005
~*~ Works In Progress Wednesday ~*~


Well I better get started.

1) my vintage bag in pink denim thread
2) rippled mittens
3) jessica simpson shawl...will start this weekend.
4) cushioned case for my magnifier/light
5) tabi's rippled coat
6) landscapes bag
7) raspberry mocha bag
8) cell phone cozy
9) my allure mobius

ok, now to snag more buttons!! I've gone plumb crazy about buttons!!
[*-Wool & Flax-*] | 10:02 PM
|
~*~ The new and improved Wool & Flax!! ~*~
WOW!!! isn't it beautiful!! Mitzi(wickedstitch) did an awesome job not only helping me with my blog but teaching me how to do alot with it myself along the way.
I'm not done adding stuff, still have a ton of buttons to add. So if your's isn't on there yet and it should be, don't get miffed!! I'm just getting to it!!

Well i've been on here for a couple of hours and now I have mac'n cheese to cook!!

Byeya!!
[*-Wool & Flax-*] | 6:24 PM
|
---
Tuesday, January 25, 2005
~*~ Nice day for a swim?!?!? ~*~
It was a balmy 74 degrees today in January??? What the heck is goin on with the weather lately??? Oh well, the kids got to play outside at the MOPS playdate and had a blast so all's well i guess.

I started teaching my friend and MOPS coordinator how to crochet today. She's preg. with #3 and thinks the baby is a girl, so she's seeing alot of pink yarn in her future!!

I joined a brand-new crochet & knitting online community today called TightKnitFriends, check it out and tell Leah Rebecca sent ya!!

As far as projects go, I finished one of my Ripple Mittens last night, turned out absolutely gorgeous!! Warm and thick and furry and oh soooo PINK!!! Will start it's mate tomorrow. Gotta do it before the weather goes back to normal since I have no other gloves or mitts!!

I'm almost finished with the front of my 1945 vintage handbag. I'm making it from Aunt Lydia's denim thread(ww) in a beautiful rose pink(what else?!) and using the bamboo "D" handles I was RAOKed with. I'm thinking of adding a beaded button and chainstitch loop for the closure and then a magnet closure for just in case.
Then I have to start on the shawl I'm gonna want to wear for the marriage retreat weekend we're going on Feb.4-6th. I know!! I'm cutting this close but I had to finish projects that had deadlines first before I could work on my own.

I have GOT to have some of this yarn!!!
Would that not make the most drapey, sexy poncho you've ever seen?!?!
Hopefully my Secret Pal reads this and takes it as a hint since I have no idea if my lys will stock it since they don't like my precious Berroco!! I'd like to know why on earth not!! It is perfectly heavenly yarn!!! I love the Alexandrite color!!!

I got my new secret pal today!!!!!! OMG!!! Just the person I was hoping for and was sure I probably wouldn't get. This is gonna be a blast spoiling her rotten!!!
My winter sp emailed me today to tell my my reveal package from her was mailed today. I'm gonna be stalking my mail carrier now!! LOL Can't wait. I love suprizes when I know they are coming and I can anticipate them like crazy!!!

Well, I guess I better turn in for the night, have to get up on the treadmill in the morning and that's gonna come too soon.

Just one last hello to my dear friend Mitzi, love ya girlie!! Hope you are having an awesome week!
[*-Wool & Flax-*] | 11:25 PM
|
---
Sunday, January 23, 2005
~*~ I'm FREE!!!!!! ~*~
I finally finished my "Inspired lace scarf"!!!!! Wowzers!!! I created a beautiful pattern but it sure was tedious to finish. Didn't think I'd get that done in time for submission. I'm gonna wash & block it tonite, take a pic in the morning and drop off the film. It should be back on wednesday the 26th giving me enough time to beat the deadline of the 31st of the month. I also finished Chelle's Lacey Shell Poncho for tabi today. Turned out soooooo cute!!! Did it in pistachio green cotton-ease with a red cotton thread carried along. Instead of a plain drawstring, I made her some cherries!! It's totally retro lookin and fits her to a T. NOW, I can work on things for me that I want to work on, mainly my pink denim bag and my jessica simpson shawl. I need both for the marriage retreat weekend we have coming up on the 4th-6th of Feb.

On the subject of the blog, I think I've decided which new blogskin to go with finally!!! It's gonna be soooooo cool thanks to my awesome pal, Mitzi!! Thank you sooooooooo much!!!!
and I have more pics to post, will try to get that done tomorrow.
So goodnight you beautiful peeps, and keep hookin'!!


[*-Wool & Flax-*] | 9:35 PM
|
---