Name: Rebecca
Location: Claremore, Oklahoma, United States
Things I love! My Lord, my Bible, knitting, spinning, crocheting, FALL!, working out, horseback riding, two-stepping with hubby, line dancing with my sisters, singing along with the radio, dark chocolate, yummy scented candles, lace, japanese cherry blossom by bath & bodyworks, merino wool, baby alpaca, silk, vintage rhinestone brooches, lacey romantic shawls, roses, pale pink pearls, 1940's fashions, christmas, crocheted snowflakes, lots of icicles, my mom & siblings, raspberry truffle martinis, a clean kitchen, homemade soup, glazed candied pecans, my in-laws, Godiva truffles, mexican food, italian food, flannel pj's, Will Smith, watching movies with hubby, shopping with my sisters, baking with my kids, watching Grey's Anatomy and LOST, wool-ease yarn, brooks farm yarn, artfibers' chai silk yarn, pink champagne, date nights with hubby, long phone conversations with Beth or Shauna, cowboy boots, tweed coats, black & white photos, dark wood, aga stove/ovens, craftsman style homes, old fashioned gardens, tulips, african violets, running, tickling my kids, making gifts for people I love.
(.+. The Girl .+.)


A Crochet Blog "She seeks wool and flax and works willingly with her hands" Proverbs 31:13
(.+. Snag her buttons .+.)



Here's a link to my knitting blog, sorry i don't have a button yet! Want to make me one?
(.+. She Adores .+.)


Stitch Diva Studios


(.+. Wish I May, Wish I Might .+.)


Betty Boop Coca-Cola Decopauge Wall Clock for my kitchen!!
Betty Boop Coca-Cola Single Switchplate Cover!
Betty Boop Kiss the Cook Cookie Jar!!
(.+. On her hooks .+.)


Granny Square Tote
Rippled Mittens
felted cd case
Star Ripple Baby Afghan
(.+. Crochet-Alongs .+.)


(.+. Coming Soon .+.)


(.+. Web Rings .+.)


Previous
|
Next

Previous
|
Next

Vote for me in Top 100 Crochet and Hook Sites List
(.+. Her Past Entries .+.)



09/05/2004 - 09/12/2004

09/12/2004 - 09/19/2004

09/19/2004 - 09/26/2004

09/26/2004 - 10/03/2004

10/10/2004 - 10/17/2004

10/17/2004 - 10/24/2004

10/24/2004 - 10/31/2004

10/31/2004 - 11/07/2004

11/07/2004 - 11/14/2004

11/21/2004 - 11/28/2004

01/02/2005 - 01/09/2005

01/16/2005 - 01/23/2005

01/23/2005 - 01/30/2005

01/30/2005 - 02/06/2005

02/06/2005 - 02/13/2005

02/13/2005 - 02/20/2005

02/20/2005 - 02/27/2005

02/27/2005 - 03/06/2005

03/06/2005 - 03/13/2005

03/13/2005 - 03/20/2005

03/20/2005 - 03/27/2005

03/27/2005 - 04/03/2005

04/03/2005 - 04/10/2005

10/30/2005 - 11/06/2005

11/27/2005 - 12/04/2005

12/04/2005 - 12/11/2005

12/11/2005 - 12/18/2005

12/25/2005 - 01/01/2006
(.+. Coming Soon .+.)


(.+. Coming Soon .+.)


(.+. Coming soon .+.)


(.+. Find her here .+.)



(.+. Shop till ya drop .+.)




(.+. Just for Fun .+.)


(.+. Her Friends .+.)





(.+. Credits & Thank You's .+.)


xDiorAngelx
xDiorAngelx Tutorials
Blogger
Blogskins

Saturday, September 11, 2004
~*~ YEAH!! I finished something. ~*~
The ponytail hat crocheted for my cousin's little girl's birthday party next thursday is now finished, the ends are all weaved in and invisible. This was the first time I have used boucle yarn and it was kinda difficult but now that it's done, I love it! It is so warm and thick and forgiving. It looks so cute!! I think i want one for myself in this TLC Amore' i've had lying around here. Oh no, another project..................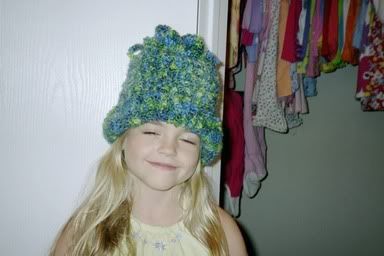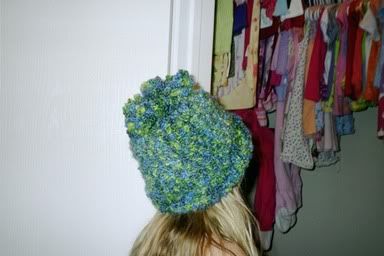 Doesn't she look adorable in it? I actually had to beg to take a picture cause she's sooooo shy.
[*-Wool & Flax-*] | 9:36 PM
|
~*~ My first ebay yarn got here today!! ~*~
It is sooooo beautiful!! It is a cone of 5400 yds. laceweight loopy rayon yarn in a fruity summery colorway. I want to make a shawl from it for a dear friend for her birthday next July. I have a feeling that I better get started on it right after the Christmas stuff is done, or I might not finish it in time. I've never done lace so this will be an adventure!!

Hmm...after playing with it, I think it will be done in the Jessica Simpson shawl pattern but it needs another yarn carried along with it and I'm not sure what kind yet. But here's the pic.


[*-Wool & Flax-*] | 7:46 PM
|
---
Friday, September 10, 2004
~*~ Works in progress... ~*~
Right now I've got a ton of projects i'm trying my best to keep up with.. I've got to finish the scarf i'm knitting for my mom for christmas and I'm hoping to have it done tonite except for the fringe which I want to bead (haven't bought them yet). Then I've started a scarf for my oldest daughter, two ponchos for myself: one crocheted and one knitted, then there's a granny square newsboy cap and vest for the same little girl, a crocheted sweater for my son and a crocheted ponytail hat for a birthday party next week. That's just the stuff I have started, that doesn't count all the projects i have lined up or have purchased yarn for. But........right now i need to go write my grocery list and do my shopping so I have food to fuel this "Lean, Mean, Yarn Machine".

[*-Wool & Flax-*] | 5:58 PM
|
~*~ Yarn Shopping this week!!! ~*~
I hit paydirt this week shopping for yarn. First, on ebay i bought a big cone of a pretty blue wool and 3 partial cones of bright lime green wool, some gorgeous turquoise rayon yarn, some varigated yarn i fell in love with and I don't even know what the fiber content is!!! LOL Also a hand spindle and some beautiful green roving. THEN, onto Hobby Lobby where I bought a skein of LionBrand polar fleece, size 10 circs, a skein of camo sock yarn, and a new knitting bag. THEN, to my lys where I found the Debbie Bliss on sale 50% OFF!!!! Jumping up and down here!! I bought 3 balls of the merino chunky in a pretty teal shade, 3 balls of the merino dk in a dusty plum, and 4 balls of the merino dk in a soft navy. I'm determined to make me a booga bag from this wool. I have enough to make one for myself and for my mil for christmas. Then today i was at another Hobby Lobby just killing time while waiting on hubby, and saw the sidewalk sale. I am a sucker for sidewalk sales. I got 10 skeins of LionBrand Cotton Ease in a soft pistachio for a baby blanket. It might be a while till I can get a pic up but i will try this weekend. Hubby says i can't buy any more yarn till I spend the same amount of $$ on hunting stuff for him. I said, "That's a deal!" He could have asked for much more, i figured.

[*-Wool & Flax-*] | 5:26 PM
|
~*~ Switching Blog Hosts ~*~
I'm switching from typepad to blogspot, we'll see if I can handle it better here. I really want this to be awesome!!! more coming later tonite!!

[*-Wool & Flax-*] | 4:16 PM
|
---